Traces of You (Album)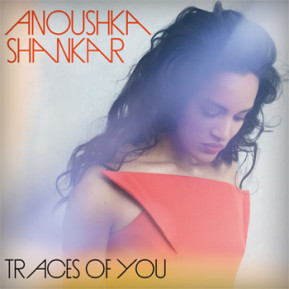 The Sun Won't Set (feat.Norah Jones)
Flight
Indian Summer
Maya
Lasya
Fathers
Metamorphosis
In Jyoti's Name
Monsoon
Traces Of You (feat. Norah Jones)
River Pulse
Chasing Shadows
Unsaid (feat. Norah Jones)

It's hard to think of any other music-making device which has such an air of both the archaic and the transcendent as the sitar, the traditional stringed instrument central to the Hindustani classical music of the Indian subcontinent. Probably invented in the 13th century, but with roots shared with the far more ancient veena, the sitar is a visual work of art in itself. For years its sound was unknown in the West, until Ravi Shankar opened up a whole new world of possibilities. Through his pioneering tours, ground-breaking compositions for orchestras and artists such as Yehudi Menuhin, and role as teacher and mentor to George Harrison, John Coltrane and Philip Glass, he brought his music and culture to audiences of disparate ages and genres across the globe. More than just one of the great artistic figures of the 20th century, he was a musical philosopher whose sitar brought people together and whose spirituality transcended cultural and political differences. That the sitar has since become a fixture in the musical worldview of open-minded listeners is solely due to Ravi Shankar.
Anoushka Shankar is now both conserving her father's musical philosophy and extending it into new sound spaces and contexts. The 32-year old artist not only served her apprenticeship in Indian classical music under Ravi Shankar and performed on stage with him for nearly twenty years, but also benefited from a curious and open-minded upbringing across three continents, and has always pushed the cultural dialogue her father began even further in her own music. She released her first album, Anoushka, in 1998, when she was just 17, and since then has worked with musicians as varied as Sting, Herbie Hancock, Jethro Tull, Concha Buika, Mstislav Rostropovich and Thievery Corporation. For the past decade and a half, this spirited, visionary and clear-sighted musician has subtly and successfully incorporated traditional Indian sounds into a musical panorama dominated by contemporary styles, bringing the spiritual roots of her music to younger generations.
Shankar's seventh CD, Traces of You, marks a significant step along her pathway as a musician and woman. With the aim of bringing together a variety of cultural experiences and attitudes as organically as possible, she worked with London-based British-Indian producer Nitin Sawhney, particularly noted for fusing Eastern influences with electronica and, more generally, a non-didactic interweaving of Western and Eastern soundscapes for which London, Anoushka's home and place of birth, provides the optimal environs.
However, Traces of You goes beyond resolving music-related dilemmas. The direction of the initial – and solely musical – exploration was inspired by the idea that everything in the universe leaves an indelible mark, or a subtle "trace", on everything else it comes into contact with, and Anoushka drew on her relationships and multicultural lifestyle to trace a journey of love, change and loss. As it happened, life itself would leave traces on the album's production. Having lost her father during the process of recording, it was inevitable that her loss became the central focus of the songwriting. However, the music is ultimately hopeful rather than mournful, as whilst losing her father Anoushka was also occupied with raising Zubin, her young son. Intense joy, pain and sadness intermingled and Traces of You became Anoushka's catharsis through a difficult period, leading ultimately to the greater emotion behind all the others: love. Three forms of love, love for her father, her husband, and her son, proved to be the ultimate inspiration for some of the deepest music Anoushka has yet written. She worked on Traces of You for over a year, conceiving it as a unified concept, an unending circle, from the first track to the last. "I approached the album as a whole," she explains, "as opposed to a series of songs. A lot of it happened unconsciously. Life took a journey of its own and the music followed that form. The sitar leads the listener through the album like a narrator."
With this in mind, it is certainly notable that although the individual tracks are con-siderably shorter than traditional raga performances, a strong narrative strand is threaded through not only the three songs for which her half-sister Norah Jones provides vocals, but the ten instrumental tracks as well. Shankar's central theme is that of the cycle of life – from her perspective as a daughter, mother and wife. "Life goes on. Things end and things begin and our endings are not the ending because life goes on beyond us, and we go on beyond this life. It's bigger than I can ever imagine and there's a flow that connects everything, even when you can't really understand it in the moment. A lot of the most painful things I've ever been through have led to some of the most beautiful things that have ever happened. I was quite aware of that kind of metamorphosis when making this record. There was a lot of pain, a lot of joy, a lot of beauty, a lot of sadness, and sometimes they were all completely mixed up together."
Despite all its manifest multiculturalism, Traces of You is far more than just another crossover album. It's not about seeing how far it's possible to go in amalgamating familiar sound textures, but asking how accurately music can capture myriad states of mind and experiences within a reality characterised by such a range of different cultures, ethnicities, traditions and life stories. This CD has something to say not only about Anoushka Shankar, but about every listener willing to engage with its individually heterogeneous, but collectively incredibly cohesive tracks. Taken as a whole, the thirteen chapters of her narrative reveal numerous overtones and undertones woven throughout the length of the album, conveying a message about the impermanent nature of the world.
Traces of You is also a collaborative work. Nitin Sawhney was involved in all aspects of the CD from the creative processes of writing, arranging, programming and playing, right up to the final production stages. Shankar had worked with Sawhney twice previously, and knew that she could completely trust in his intuitive understanding of the soundscapes she envisioned. The immense suppleness of tracks such as Flight, Maya and Lasya stems from the almost unlimited possibilities of the Hang, a relatively new instrument that looks something like a cross between a steel drum and a flying saucer. Austrian Hang player Manu Delago understands perfectly how to blend his instrument with the sitar, as well as with Ian Burdge's gentle cello and Sawhney's virtuosic guitar and piano work and sophisticated electronic sounds. The use of a great variety of Indian percussion, in the hands of Anoushka's regular collaborators Tanmoy Bose and Pirashanna Thevarajah, also creates numerous volatile bridges between worlds. On the three tracks on which Norah Jones appears with Shankar, the two artists' very different timbres blend together amazingly well; neither musician has to make concessions to the other. The songs are are well-suited to the sophisticated intensity of Jones's smoky vocals, and Shankar's clever use of Indian rhythmic accompaniment creates surprising textures around the sisters' performances, especially on the impressive album opener The Sun Won't Set, a brilliant confluence of life experiences on three continents. Like her father, Anoushka Shankar displays an enormous talent for effortlessly integrating even the most contrasting of musical components into her sound universe.
She takes the same approach when it comes to all the songs on the album, from the mini¬malism-inspired Metamorphosis to the electronica-tinged Maya, and from the Americana-steeped songs that Norah Jones sings to the sitar-driven, raga-based compositions Monsoon and In Jyoti's Name, which serve as a potent reminder of Shankar's classical Indian roots. Even though the baroque-sounding gem Indian Summer, with its hypnotic blend of the sitar and Sawhney's piano, initially appears to be at odds with the aforementioned songs, it is just this integration of contrasting styles that brings the album full circle.
On Traces of You, an unusually insightful artist tells a hauntingly individual and thus very poignant story about matters that concern every single one of us: the eternal interplay of loss and hope, of transience and new beginnings. It is filled with sensuality, but also makes an impassioned plea for us all to realise that despite our widely varying social, cultural, religious and geographical circumstances, our fundamental human experiences are broadly similar. Traces of You creates an uplifting soundscape that shimmers with the contagious power of hope.




ANOUSHKA SHANKAR – TRACES OF YOU Liner notes:
01. The Sun Won't Set 3:35
(feat. Norah Jones)
written by Anoushka Shankar and Nitin Sawhney
lyrics by Anoushka Shankar and Nitin Sawhney
Vocals Norah Jones • Sitar Anoushka Shankar
Guitar Nitin Sawhney • Ghatam Pirashanna Thevarajah
My father's first name, Ravi, means "sun" in Sanskrit. In the months before he passed away, this song was a way for me to express my unwillingness to let him go.


02. Flight 3:38
written by Anoushka Shankar
arranged by Nitin Sawhney
Sitar Anoushka Shankar • Hang Manu Delago • Cello Ian Burdge
Programming and String Arrangement Nitin Sawhney
The melody I play on sitar here originated as a line I contributed to a track by my dear friend Gaurav Raina of the MIDIval Punditz. It haunted me for weeks, and I just had to develop it further. It evolved into this, and two of the other songs with connected themes on this album: The Sun Won't Set and Fathers.


03. Indian Summer 4:54
written by Anoushka Shankar and Nitin Sawhney
Sitar Anoushka Shankar • Piano and Programming Nitin Sawhney
When Nitin and I wrote this piece together in the summer of 2009, I was just in the process of falling in love with my husband-to-be. I'd met Joe whilst he was in New Delhi researching a film called Indian Summer. The film never happened, but we'd already met because of it, and didn't mind.


04. Maya 5:05
written by Anoushka Shankar and Manu Delago
Sitar Anoushka Shankar • Hang Manu Delago • Cello Ian Burdge • Programming Nitin Sawhney
Hindu philosophy says the world is an illusion. What if that were less literal than it seems? When I'm full of love, or steeped in creativity, life feels more real than when I'm caught up in trivialities to which I assign imaginary worth. May I always turn towards that which is creation, truth, and love.


05. Lasya 4:39
written by Anoushka Shankar
Sitar Anoushka Shankar • Hang Manu Delago • Udu Bernhard Schimpelsberger
Mridangam, Moorsing and Vocals Pirashanna Thevarajah • Tanpura Kenji Ota
When will our world have a safe and respectful, celebratory balance of male and female power? The name Lasya refers to the Hindu goddess Parvati's Cosmic Dance, a feminine and graceful "yin" response to her consort Shiva's powerful and masculine Tandava.


06. Fathers 2:30
written by Anoushka Shankar and Nitin Sawhney
Sitar Anoushka Shankar • Piano Nitin Sawhney
As we worked together on this album, Nitin and I were both dealing with emotions around our ill fathers, and I was also, separately, moved to watch my husband become a father to our baby boy. Strangely and sadly, both Nitin's father and my own subsequently passed away only a few months apart. With this song I offer my deepest respects to them both.


07. Metamorphosis 4:47
written by Anoushka Shankar and Nitin Sawhney
Sitar and Vocals Anoushka Shankar • Vocals Anil Narasimha and Sandhya Chandrachood
Shehnai Sanjeev Shankar • Tabla Tanmoy Bose • Tanpura Kenji Ota
Bass Guitar and Programming Nitin Sawhney
When does change happen? Does it happen imperceptibly over a period of time, or is it one specific moment during which we cross the divide? Do we die within a part of a second as the last breath leaves our body, or are we continually moving ever closer to the moment at which we cross over into the unknown? The shloka featured here is the "Maha Mrityunjaya Mantra", one of the Vedas' most sacred verses, often recited at the moment of passing.


08. In Jyoti's Name 3:33
written by Anoushka Shankar
Sitar Anoushka Shankar
Mridangam and Ghatam Pirashanna Thevarajah • Tanpura Kenji Ota
Sexual violence is something that has always left me deeply saddened and angry. I turned to this song as an expression of my sadness, anger and solidarity with people who have experienced violence and the trauma that accompanies it. The raga this song is based on is the incredibly challenging, compelling and powerful Shree.


09. Monsoon 3:40
written by Anoushka Shankar
Sitar Anoushka Shankar • Tanpura Kenji Ota • Programming Nitin Sawhney
When I play the raga Manj Khamaj I feel deeply connected to my father, as it was always one of my favourite ragas to hear him play. Nitin and I decided to leave the sitar's sweetness and melancholy exposed by avoiding any rhythmic or melodic accompaniment other than a tanpura's drone.


10. Traces of you 3:45
(feat. Norah Jones)
written by Anoushka Shankar and Nitin Sawhney
lyrics by Anoushka Shankar and Nitin Sawhney
Vocals Norah Jones • Sitar Anoushka Shankar • Tabla Tanmoy Bose • Glockenspiel Manu Delago
Guitar, Bass Guitar, Percussion, Ukulele and Programming Nitin Sawhney
People who have gone are still here in us. Places we came from are carried to the places we go. The creative spark that generated us all is alive in every birth, in every loving heart, and in every newly sung song.


11. River Pulse 3:04
written by Nitin Sawhney
Sitar Anoushka Shankar • Cello Ian Burdge
Ghatam, Shaker Percussion and Moorsing Pirashanna Thevarajah • Tabla Aref Durvesh
Guitar and Programming Nitin Sawhney
Nitin once told me my father's playing had inspired the writing of this song. It feels apt, therefore, to present it here as a sitar-guitar duet.


12. Chasing Shadows 8:17
written by Anoushka Shankar and Vishwa Mohan Bhatt
arranged by Anoushka Shankar
Sitar Anoushka Shankar • Tabla Tanmoy Bose
Mridangam, Ghatam and Kanjira Pirashanna Thevarajah
Bansuri Ravichandra Kulur • Shehnai Sanjeev Shankar • Tanpura Kenji Ota
Years ago I recorded my father's disciple, the wonderful Vishwa Mohan Bhatt, playing the main lines of this composition, but eventually couldn't use the piece on the album I was working on at the time. I developed the piece, adding improvised solos and an intricate call-and-response ending, and began presenting it live. It has been one of my favourites to perform ever since. It's lent itself beautifully to varied instrumentation; here, I've presented it with a more classical Indian arrangement, featuring musicians I've worked with for many years and love dearly.


13. Unsaid 4:28
(feat. Norah Jones)
written by Anoushka Shankar and Norah Jones
lyrics by Anoushka Shankar
Vocals and Piano Norah Jones • Sitar Anoushka Shankar • Cello Ian Burdge
String Arrangement Nitin Sawhney
Several weeks after our father's passing, I flew to New York to record with Norah, and wrote these lyrics on the plane. She sat at the piano trying out a new melody, and as she sang, I realised she was singing phrases that were astonishingly close to the beloved musical theme our father wrote for Satyajit Ray's film Pather Panchali decades ago. I asked her about it, and she told me she'd never heard that melody before. It is small, inexplicable moments like these that fill me with gratitude and awe.